EYES WIDE SHUT
2020
19th Edition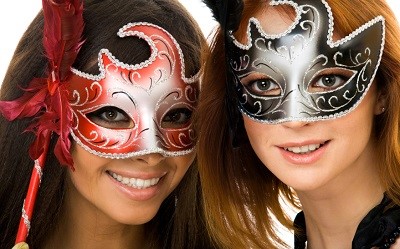 We have to postponed the 2020 party due to Covid
We will be back as soon as we get the Ok from the Quebec Public Health
is sponsored by :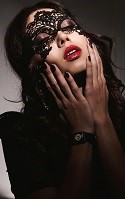 MONTREAL
''The most popular evening of all time''
The ''Eyes Wide Shut'' evening (Les Yeux Grands Fermés in French) is, for nineteen consecutive years, the highest rated evening in the fall season for all Quebec's swingers and LifeStylers. Its reputation has far exceeded its borders and the evening has become for many Canadians, Americans and Europeans, an essential lifestyle. An evening where the sexuality of ones joined the fantasies of others. An evening without constraints, without taboos, but at the same time, full of respect. First masked ball that sets the tone for all other parties of different swingers clubs that will take place in the last week of October. The event that you can not and do not want to miss! Find a babysitter for the kids, take the next day off ... but make sure to be there!
THANKS!
THE 2019 EDITION WAS SOLD OUT!
Book early to avoid getting caught pants down!


Pictures from previous years
Photographs of actual participants. Real people who just have fun.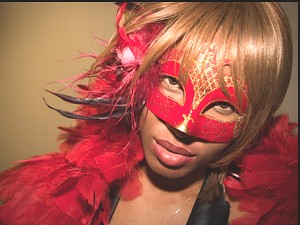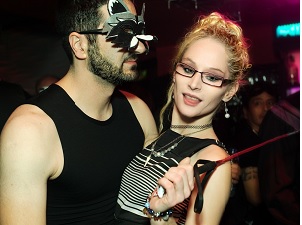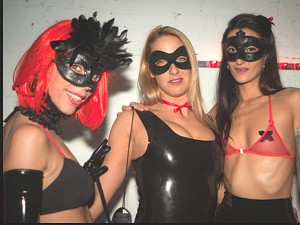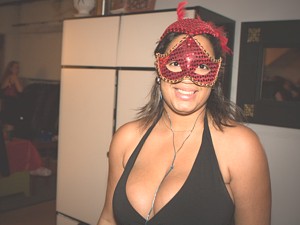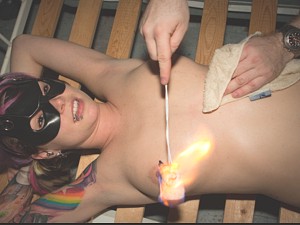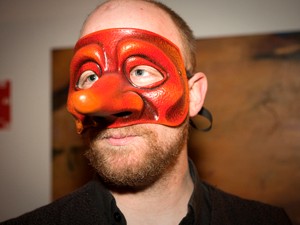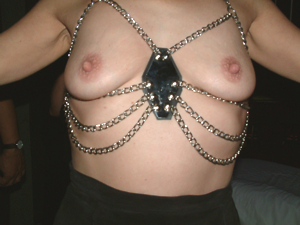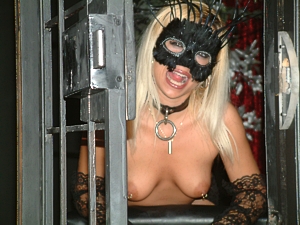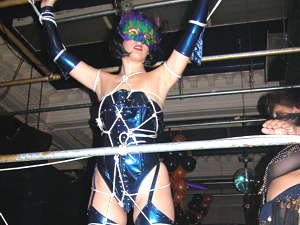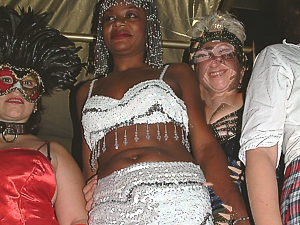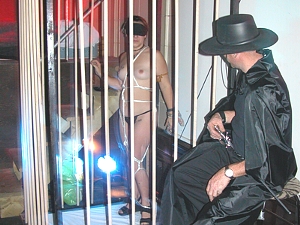 EYES WIDE SHUT - LES YEUX GRANDS FERMÉS
"Masked evening"


THEMATIC (Black & Red)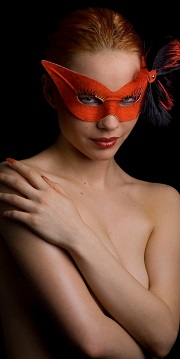 REASONABLE ACCOMODEMENTS
Mask mandatory
Fancy Dressed = Leather, latex, vinyl or any other fancy dress clothing matching the mystic thematic evening. Red and black color clothing preferable. Black only = This is the minimum accepted; all in black: pants, t-shirt, blouses, dresses, skirts... Forbidden = Clothing other than black or Halloween outfits like : clowns, Batman...
Locations of the evening in previous years:
2019 - - Club L, Jean-Talon Street, Rosemont-Petite Patrie, Montreal
2018 - - Club L, Jean-Talon Street, Rosemont-Petite Patrie, Montreal
2017 - - Circus Club, St.Catherine Street, Downtown Montreal
2016 - - Unity Club, St.Catherine Street, Downtown Montreal
2015 - - L'Orage Club, St.-Hubert Street, Villeray, Montreal
2014 - - L'Espace, St.-Catherine Street, Centre-ville, Montreal
2013 - - L'Espace, St.Catherine Street, Downtown Montreal
2012 - - Espace Griffintown, Olier Street, Griffintown, Montreal
2011 - - Club Céleste, Metropolitain Blvd, St-Leonard, Montreal
2010 - - Cartier Theater, Notre-Dame Street, St-Henri, Montreal
2009 - - Pivate Underground Loft de la Commune, Old-Montreal, Montreal
2008 - - Private Loft Ontario Street, Hochelaga-Maisonneuve, Montreal
2007 - - Loft de l'Orage, Wolf Street, Centre-Sud, Montreal
2006 - - Club Lucky Seven, René-Lévesque Blvd, Downtown, Montreal
2005 - - Club Céleste, St.Hubert Street, Rosemont-Petite Patrie, Montreal
2004 - - Orage Club, St.Lawrence Blvd, Plateau Mont-Royal, Montreal
2003 - - Orage Club, St.Lawrence Blvd, Plateau Mont-Royal, Montreal
2002 - - Orage Club, St.Lawrence Blvd, Plateau Mont-Royal, Montreal

Past years advertizing posters
No rebate coupons accepted - No "laissez-passer" accepted
Swinging is legal in Canada since December 2005 (Supreme Court Judgement)

Sexual participation is not mandatory - You must be 18 to be sexually active

American citizens you now need a passport to cross the Canadian / US border
IF YOU'D LIKE TO BE WITH US FOR THIS EVENING, YOU MAY RESERVE BY E-MAIL AT
info@aeqsa.com
OR BY BUYING TICKETS AT PARTICIPATING PLACES INCLUDING INTERNET PAYMENTS WITH PAYPAL
YOU MUST WEAR A MASK.
and is sponsored by :
Montreal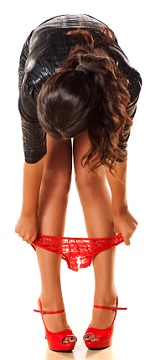 * Are treated as a couple entitled to a reduced price as a couple, a man and a woman biologically formed.
- LEGAL NOTICE - Swinging and related consensual sexual practices are legal in Canada. A ruling of the Supreme Court of Canada dated December 21, 2005 made these activities legal. The exchange of money requested for access to swingers' parties is also legal. This money can serve to defray operating costs, rental of premises, advertising, employees ... and even generate a profit, as evidenced by the ruling of Judge Boisvert dated July 4, 2003. The minimum age for participation is 18 years old. Participants at our parties are all willing and consenting, free to move around, and not forced by anyone. No money is available to the featured participant of an evening when it features a unique individual (example: Gang Bang evenings). These individuals have expressed a prior request for such an experience with the organizer who puts in place the elements and logistics necessary for its implementation. In order to confirm that the featured party is acting of their own free will, an informational meeting with the organizer is always held prior to the event. No cameras accepted. Taking pictures is prohibited. Certain sexual scenes may not be suitable for all voyeurs. We comply with the Canadian C-28, federal anti-spam legislation, of July 1, 2014 concerning the regulations on sending bulk emails.

CONFIDENTIALITY: This document is intended solely for the adult individual (18 years old and over) or entity to whom it is addressed. The information contained in this document is legally privileged and confidential. If you are not the intended recipient or the person responsible for delivering it to the intended recipient, you are hereby advised that you are strictly prohibited from reading, using, copying or disseminating the contents of this document. Please inform the sender immediately or write to confidentiality@aeqsa.com and delete this document immediately. If you want to unsubscribe, click below.

CLARIFICATION REGARDING FEDERAL LAW C-36 of December 6, 2014: The activities presented are activities involving no amount of money in exchange for sexual favors. There is no remuneration, no percentage of income or economic benefits delivered to the featured participant of the activities presented. We do not feature nor accept prostitutes, or sexual escorts, in our activities. Male or female featured participants are people who want to live personal fantasies, mainly group sex, which is legal in Canada, in a safe and well supervised location. We do not tolerate any violence, drugs nor alcohol consumption. The premises used are safe from the eyes of people under the age of eighteen (18) years old.

PROCEDURES: For the regular events, a simple email reservation is sufficient. Reservations closes four (4) hours before the beginning of each event, and are subject to availability unless otherwise indicated. A confirmation message will be returned with the exact address of the venue of the event. Always check the location of the event because we use several different premises. Entrance fees are paid directly at the door in cash. We also accept American or Cuban convertible currency at the same rate as the Canadian currency. You can also pay at any time by Interac transfer to: payment@aeqsa.com .For special activities, or if you have reached a R6 reliability status, pre-payments are mandatory. Bring your condoms and your towel. All people must enter the premises well showered and clean of their own person in respect for the other participants. The behavior of couples are bound together in terms of active participation, both have to participate or both have to remain voyeurs. One of the two people should immediately stop its active participation if the other member of the couple ceases to participate. We reserve the right to evict anyone not respecting the guidelines.

RELIABILITY RATINGS: A reliability regarding appointments honored and dishonored, is henceforth established in several organizers of adult's activities in Quebec. This rating is used to determine fair prices for people who honored their reservations and, conversely, eliminate unwanted people who do not fulfill their reservations. Like a credit score, each of your reservations at participating events with the organizers is noted and archived. The rank ranges from R1 to R7. Each of your missed appointments will remove two points on your record and each of your canceled appointments, if notified by email within a maximum of twelve (12) hours before the event, takes away a point. Restricted activities worth three points if you miss them. Each appointment honored will give you back a point, if you have already lost rating points. A rating of R1 gives you the best possible price and guarantee you a place at the event, at each of your booking. You must attend a minimum of five (5) events without failure in order to build a reputation and be able to apply for the R1 status. This status is not granted automatically, you must make the request by E-mail. A rating of R2 to R3 will entitle you to the regular price and offer you the opportunity to be selected before a lower rating score from another individual, when space is limited. A rating of R4 and R5 will send you into the category of the regular price and your registration for the event is subject to availability. A rating of R6 puts you in a situation of advance payment at the regular price to be accepted at the event. A rating of R7 puts you on the black list and any future access is denied with us an also among other participant organizers.

PHOTOS: All photographs are published with the consent of those photographed. Photographer: Jean Hamel © 2002-2020. All rights reserved for all countries. Some photos are published under license with permission from iStock., by Getty Images.

LGBTQ: We welcome LGBTQ (lesbian, gay, bisexual, trans, queer) community members with pleasure. For the purposes of the entrance fee, the biological constitution of the person will be authentic of its kind. Same-sex couples are not considered as a couple for the purposes of the entry fees, without any discrimination. Example: a man disguised as a woman will have to pay the men's rate, a woman disguised as a man will have to pay the price of the women.

NOTES FOR OTHER FOREIGN LANGUAGES: Français : Si vous ne comprenez pas le texte légal mentionné ci-dessus, il est de votre responsabilité d'en demander une traduction. Español : Si usted no entiende el texto legal anterior, es su responsabilidad de pedir una traducción a su idioma. Deutsch : Wenn Sie nicht über die Rechts Text oben zu verstehen, ist es in Ihrer Verantwortung, eine Übersetzung in Ihrer Sprache anzufordern. Italiano : Se non si capisce il testo giuridico sopra, è vostra responsabilità di richiedere una traduzione nella propria lingua. Português : Se você não entender o texto legal acima, é sua a responsabilidade de pedir uma tradução na sua língua. Kreyòl ayisyen : Si nou pa konprann tèks legal pi wo a, se responsabilite nou pou nou mande yon tradiksyon. Việt : Nếu bạn không hiểu các văn bản quy phạm pháp luật nêu trên, bạn có trách nhiệm để yêu cầu một bản dịch sang ngôn ngữ của bạn. Türkçe : Yukarıda yasal metni anlamak yoksa, bu sizin dilinizde bir çeviri istemek için sizin sorumluluğunuzdadır.

(Last update 2020/09/20). © 1998-2020.